Arc 1: Fourfold Endeavour. Part 1

Nonbinary Judeo-Bolshevik
@Renu
drew this bit of cover art for me on commission!
Samus ​
You look towards the three setting suns of a world far from Zebes, the colours mingling into a glorious pastel of orange while soft plants bristle at the touch of the wind. A wisened ancient in humble looking armour worn beneath plain robes with purple feathers framing a parrot-like beak and coming in front of pill bug like chitin plates stares down at you, hands atop his plain-looking cane.

His face cannot make a smile, but you understand the warmth and gentleness of his voice as he speaks to you, old eyes beholding his daughter with boundless love. You know his lesson is important, but you would have listened to him talk to you about anything.

"There will be times when you might not understand everything immediately Samus. Some may try to confuse you while other situations will simply be odd."

"So I just need to think on my feet right? Observe, orient, decide, act, right?" You remember saying

"Of course, but beyond that, you will need to deal with situations far beyond the ordinary. But even in the strangest of situations, you should remember my most vital of lessons." He said softly, plate covered fingers shifting atop his cane as you rummaged around your memory.

"...To never turn away those in need? So long as the aid they require is not harmful." You said, brightening your expression and grinning at him as he offered a little bow of appreciation.

"You are wise beyond your years, hatchling. Soon, you will be ready to start being the hero you dream of. And when that day comes, my old heart will swell with endless pride." He said before you found one of his hands on your yellow plated shoulder and his red eyes staring into your own.

"Is there something else you wanted to say, Papa?" You asked, leaning into the offered hand and enjoying the subtle warmth of the plating on your head.

"Yes." He said as the suns dipped below the horizon before the stars started to glow far, far too bright before your eyes, forcing you to shield them.

"You need to wake up."
(Art by Jellyhammer)​
You are Samus Aran, heiress of the Chozo, sole survivor of K-2L, recently minted fourteen year old, and you are currently nestled in morph ball form on the ground. You don't really remember how you got here after taking out that wormhole station that was being fought over by Space Pirates and enigmatic soldiers identified as the same who had struck at Cylosis last decade, but you find yourself in a pleasant stretch of forest. Snow filled the fields and weighed down the branches, driven by howling winds in what you guess is this planet's winter season. Your mind's eye sees your body from a third-person perspective, a virtual out of body experience that lets you quickly gauge your whole surroundings.
Based on the decent-sized crater in the ground and a number of knocked over trees, you would say you fell from quite the distance. You rise to your feet and find that the snow goes up almost half-way up your thighs. You hold out a hand in curiosity, letting some of the snow melt on your open palm and smiling to yourself.
You offer your apologies to the plants whom your passage has ended the lives of, and take a look for the person you were travelling with.
A figure in blue, cyan, and grey armour lays before you entangled in some branches. The circular visor of his helmet giving the impression of a cyclopean red-eye in front of a smooth, insectile face with a three-pronged crest. A purple cannon covers his right arm, and a quick scan confirms that he's alive and well, simply unconscious. That was good, you've known the boy from Cylosis since you were both twelve, and you'd be besides yourself with grief if he ever got seriously hurt.
Well, you're certainly not going to let him stay in his torpor, not when you have contacts approaching your position on the radar and lurking at the corner of your psychic distant sight. You'd need to get moving quickly if you didn't want to be forced into a confrontation you weren't ready for.
He rarely had enjoyable dreams anyway, something you understood all too well.
Jumping up to him was an easy enough task, and once you were on the branch, you laid your hand on him and gave him a gentle shake.
"Arne, come on, we need to get going."
Arne​
You are Arne Skjoldr, last son of Cylosis, squire to the Alimbic remnants.
A shadow haunts your rest. You move down shapeless corridors you can't identify anything in, twisting through passageways all as featureless as the last. You weren't sure if hours passed or merely minutes as the chronometers of your armour give you only gibberish; time is without meaning. Space perhaps even less so as you cross what seems to be the same corridor thrice despite going through different doors every time.

But you hear that awful saurian snarl in the background. You knew it was following you, chasing you. You had to go somewhere as quickly as you could, but could find no respite. Legs that could have taken you faster than your own sound seemed to bring you no farther away from the roaring or the eerie green light that flickers in the darkened halls.

You keep running; your boots start to make something snap beneath your feet as the ground turns to ash and snow. You hazard the briefest look down and hold in the urge to scream.

Skulls, bones, frozen corpses and mangled bodies rent by projectiles that reduced them to so many scattered pieces. You see the apartment you once called home before some eleven years ago. The familiarity made the twisted, shadowy and frostbitten warping of the building all the more chilling; but you had to face it. You had to be brave.

You push through the door, only to find not a floor but a deep drop that seems to go on for eternity while blackness engulfs the space around you. Still, the roaring follows you, an electric hum so close to your ears punctuating its hateful sounds—a sound so similar to your Shock Coil yet different; twisted, wrong.

You hit the ground with a roll. Everything around you is either burning or iced over. Corpses lie on the street, soldiers in unmarked green and silvery armour warped in demonic form shoot through wraiths and ghosts. You spy a machine, an icthyoid, and a digitigrade psychic who all lie dead before you as you run; flickering shadows of sinister shapes surrounding you—five shades surrounding the winged golden beast with five heads.

Two frozen corpses locked in an embrace, one male and one female; standing in defiance before the fivefold one; filling you with a deep sense of ache and longing but far too distant for you to reach now confront your eyes in the distance. The emptiness of bereavement hollows out a hole in your chest, and you can't help but feel the urge to weep, sinking to a knee as the two bodies crumble away and you fall further.

You couldn't help them, nobody can, and you realise this as you hit the ground once more in a circular room with nothing but the dead. Then the lights all came on again, and you felt yourself twisting.

Cold, sterile, painful. Needles in your body, watching yourself get remade. You look into a mirror in these empty hallways and see yourself without a neck; head floating above your torso and limbs far too long. No, this wasn't you, you shouted as you smashed the offending mirror and found its shards dancing around you. Before your eyes was one cluster of shards congregating in blue form, warm and friendly; the other a grey and elongated mass whose cyclopean eye bored into you before you felt a slap to the face and a punch to the gut.

"-Inadequate, a continued disappointment despite bearing our blood. What a waste...-" You heard, words stinging as much as the blows.

"Mom? C-cant you make him stop? Please make dad stop..." You beg of the blue apparition before a blow smashes into your face through the helm and the armour that made you feel invincible now felt like a cage, body refusing to move with your commands.

"-How many times do I have to tell you; Primoris; I am not your father.-" The cold and cruel voice of the grey one sneered before the body making it crumbled away into the same ice shards that the two embracing lovers above had disintegrated into.

"Mom? Are you there?" You asked, pleading to the Blue figure who nodded and offered to embrace you in her lengthy, blue arms.

"-Of course, child. I will always be there for you, my darling knight.-" She said as you rushed towards her for her embrace, only to feel the cyclopean figure fade to dust as well. You looked at her disappear, protesting as you tried to grab at the ash, but there was no time for that.

You froze as you heard that roaring beast get closer and closer. You heard boots clanking against the ground as you tried to not sink into the bones of the dead. Your whole body was shivering with fear as much as cold, breath hitching and heart beating like a drum.

Pain surged through you as blue coils of lightning danced around you. You felt like you were burning from the inside out, every cell screaming even though your armour should have blocked it out. But what armour? It all starts to melt off around you, showing far too slender grey and red Zero-Suit that leaves you feeling far too exposed before you feel a hand around a bare neck that you have once more.

You felt a squeeze, a demand to turn around and face what you were running away from. Blue armoured plating with bright green glowing lines run across the figure's armour suit, bladed pauldrons emerge from its shoulders and the helmet is an almost featureless enigma. No visor, just a green line that vertically bifurcated it down the middle.

"W-who are you!?" You shout.

"Destiny." A far too familiar voice says back to you before the armour opens up and swallows you whole.
(Art by Jellyhammer)
​
You wake up with a start caught on some tree branches, gasping for breath as your HUD informs you all systems are functioning as intended. Just a nightmare; you breathe out and relax. You kept on seeing that blue and green figure in your nightmares as of late. Always chasing you and speaking in a voice that felt like family.
They had a name that stuck with you, Sylux. Foreign yet familiar, but you weren't sure if it was just another facet of your nightmares or something more prophetic given to you by your psychic abilities.
You hear Samus calling to you and see her gold plated gauntlet on your chest rocking you back and forth as you reorient yourself and take a closer look at the plant you've landed in. Conifer tree...a...white pine according to your scan visor? That hardly made sense, this species of pine tree was rarely found away from...Earth?
The subject is a now-deceased Eastern White Pine Tree of the species Pinus Strobus most commonly found in the northeastern region of the North American continent of Earth, particularly in New England. Analysis of the tree's chemical composition contrasted to the surrounding environment confirms an age of 374 years, three months, and 12 days before expiring upon your impact with it.
Addendum: Spatiochronal analysis indicates that the organism is not of your reality. Nor are any of the surrounding features of the environment.
Addition Addendum: Analysis of stellar and planetary positioning of night sky demonstrates 99.9978% similarity to Night Sky of Earth circa the 13th of January 2011 as viewed from what was contemporaneously referred to as the Rockingham County of the United States of America. Discrepancies recorded to user memory. Night Sky positioning confirms a time of 02:37 AM..
Additional Addendum: Radio and Microwave signals consistent with early 21st century North American Standard detected.
Additional Addendum: User craft located in geosynchronous orbit in stealth mode awaiting completion of auto-repair.
Additional Addendum: Anomalous signal has been detected attempting to interface with suit software. Analysis indicates attempted malware upload, undesired software lacks compatibility with armour systems. Precautionary immunisation and treatment protocols engaged for safety; sample of anomalous code has also been isolated. Recording to files for study.
Samus' Notes: I have at least thirty eight different questions I want answered now, how did we even end up all the way over here? It must have had something to do with the device. But what sort of signal is this? It's in nearly everything being broadcast here like some sort of subliminal wave. It's way more sophisticated than most of the other signals here too.

Arne's Notes: Did we land on some sort of simulacrum planet after taking out that generator? No that's...way too much work for something like this. Okay...different universe...need to remember protocol. I should probably try and find the original location of the subversive signal though, that might get me answers.
"Yeah, I'm fine...just a weird dream. Thank you, though." You say as you shake your head and casually unentangle yourself from the branches, dropping down unhesitantly. Certainly was good to be back on firm ground. Shame about the tree though, may its body nourish future generations.
"Samus are you aware that these plants are from e-" You started before she interrupted after jumping down with you, already knowing what you were going to say.
"From the northeastern North American region of Earth. I know Arne."
"We've got to get moving; people are c-." She said, wiping a branch off of your shoulder.
"Coming...yeah, I feel it too." You said, getting your turn to interrupt her to your satisfaction as she gave an amused exhalation before you saw a bit of yellow in the corner of your eye and then did a double-take.
"Samus..." You said, pointing towards the sight a few hundred meters distant from your position to the north.
Samus​
You turn and see a yellow...car that wasn't there before. It was...rounded, it had wheels, and from a glance, you would guess it fit maybe four people, five if they squeezed in. You don't see any tire tracks in the snow that would have indicated it drove there though, and the vehicle was clearly out of place.
Not perhaps, quite as out of place as the primitive-looking red and white turbofan jet that was right next to it trying very awkwardly to pretend that it had any business here, roughly about thrice the length of the small yellow beetle-like car with a wingspan about as large as its length.
You didn't need even to scan the vehicle to tell that there was no way that the aircraft could have made a landing this smoothly amidst this much tree cover. It would have needed far more space, and none of the trees behind it shows any signs of having been disturbed by its passage.
Your ship
couldn't make a landing like that and you designed the damn thing.
Your armour cracked through the encryption of their communications with ease, it was sophisticated, but not quite sophisticated enough. Strange though, you've never seen tech like this before. You'd call it...Living Machinery? Oh you'd just love to know more about it.
Bumblebee: What do you think they are?
Windblade: Minicons perhaps? Not getting any energon readings off of them though. Stay sharp, could be a Decepticon trap.
Bumblebee: I dunno Windblade, never seen Decepticons like that before. Turning into a ball doesn't seem to be their style either.
Windblade: Who knows what they've got calculated up? I've been tracking multiple different extraterrestrial contact groups since we've gotten here. On every Earth we've been tracking.
Bumblebee: Maybe we should just try saying hello? It's always worth a try to make some friends.
Windblade: Bumblebee, one rotation cycle you're going to get us both offline with how adorable you are.
Bumblebee: Don't say you don't love it though.
To your west you also heard shouting between two young voices, you'd guess they'd be about your age. One male, one female. Your suit translates the archaic language they're enthusiastically discussing directions in without much of a hitch.
"I cannot believe you Eudaimonica! Jump through one portal without looking and now we're all the way in New Hampshire?! How are we supposed to get back to Paragon City and out of this fucking dump!? If it weren't for your demons I'd be freezing my ass off." The male voice shouted, distant, inaudible to normal humans but clear as day to your enhanced hearing. As far as your suit can determine, there is no such city in the United States, certainly not in Rhode Island; which your armour quickly deduces is the origin point of their accent.
"FBSA line's acting really jank though Nightcaster, lot of static when I'm trying to call the Freedom Phalanx too...and my phone's date system is really fucky; says its January 2011. Must be another dimension? Besides, you're a shadow warlock, you can handle a little cold." The female voice said, trying to defuse her companion's flippant outrage by refocusing him on something else.
"That's almost ten years ago, are you kidding!? Ugh what is with this portal corps bullshit?! I'm supposed to be getting ready for spooksmas! The spirits and I had the BEST fucking decorations planned."
"Halloween?" Arne said to you before you shoosh him to concentrate better.
"Bruh calm down, don't get full doomer on me. We just have to find a place to stay and I'm sure Positron's gonna come in like a chad and get us back home. Or maybe I'll work out a portal spell or...something, look just stick close to the fire demons and you'll stay warm. You big baby." You...understand these words but the way they're being used makes you tilt your head. Arne seems to be similarly baffled by the slang, but your armour computers do indicate that these were popular vernacular terms in the later portion of this decade.
But that's hardly the only concern as you turn your head to the sounds of boots crunching into the snow. Quite a lot of boots, actually. The sound is definitely coming from the south, the same direction as one of the region's larger metropolitan areas.
"Impact site's nearby; spread out and investigate." The closest voice says, an adult you discern based on their baritone.
"Why are we hunting meteorites? That's NASA shit." Another said, female, somewhat younger, likely lower ranked.
"Look all I know is that the tinker tech scanners figured they weren't like the other debris from that blast in orbit. Just tell me when you find something."
"God damn space shit couldn't wait until we weren't in the middle of a blizzard?" She complained.
"Do you see the kids complaining half as much as you do?"
"Try to be at least a little professional." Somewhat more grizzled voice, definitely vocoded through a power suit of some sort. Interesting, as far as you were aware Earth never developed more than the very rudiments of that technology this decade.
"Easy for you to say when you're probably nice and toasty in that power suit." The female soldier said, getting an exasperated sigh out of the third voice.
You turned back to Arne.
"What do you think about all of this Arne?" You asked him as he stopped and tapped his chin with his left hand. His mind, as keen as your own, took only a moment for him to come up with his answer.
"Definitely a different spacetime continuum. It'd fit the scan data at least. South is where the local authorities are coming from though." He said, snapping his attention back to you.
"Yeah, agreed. Should we go meet them?" You ask, getting a shrug out of the Squire.
"Come on Arne..." You sigh.
"I don't know. Maybe? Look I...Uh...okay I'd want to wait to see what they're like before we do anything." Well, at least you got your answer, and you rewarded him with a thumbs up.
"You know I don't like guessing but...those vehicles and the two juveniles probably also came through some sort of faultline? Bumblebee and Windblade seem to be here more..." He paused briefly, at first unsure if the word he was going to use was appropriate before going ahead with it, casually making use of the names extracted from their chatlogs. "...Intentionally I'd say? I think we should probably check on the vehicles first though; something's not right about them." He said, turning towards the car and the aircraft.
"No, I think the kids probably need our help first. This kind of weather is easy to get lost in." You say, hoping that the two youths aren't too cold. If they were lacking in climate-controlled gear...you shuddered at the thought, no you weren't going to let it come to that.
"It's going to be too late for that. We've been spotted." Arne said, pointing at some of the shapes turning their heads in their direction, ancient-looking weapons being cautiously brandished. Most would be of no threat to you, but a few of them had unusual energy signatures your armour recommended further studies on and their radio communications indicated they'd start to converge quickly.
Arne looked to you for guidance; the choice would fall on you as you heard a request for identification and status.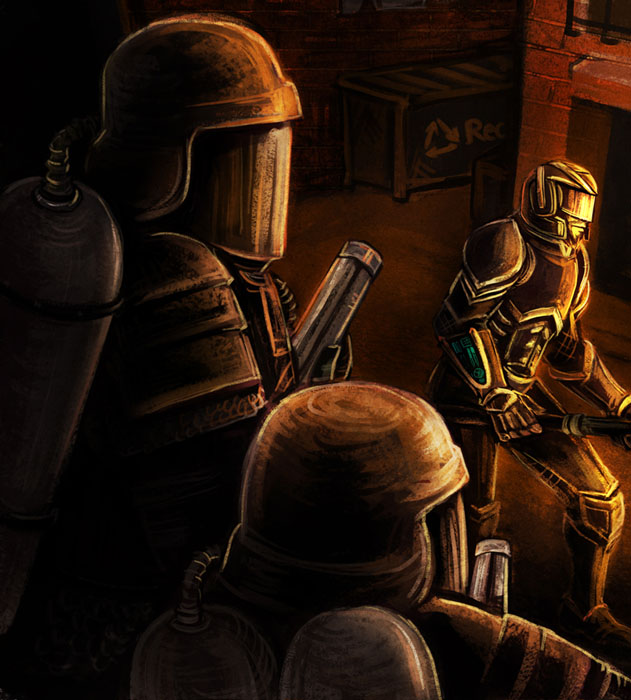 Data extracted from communications and wireless systems cross-referenced to Distant Sight and deep analysis information shows a set of equipment largely comparable to known records of early third millennium technology. The standard armour of a PRT is a non-powered combination of kevlar and chain mesh designed to be resistant to primitive chemical slugthrower rounds and steel blades swung at speeds within baseline human ranges. Standard weapons are smokeless powder assault rifles, shotguns, and grenade launchers typically fitted with nonlethal equipment. Threat level is nonexistent. Advise care to avoid unintentional inflicting of fatal injuries.
Advisory: Some members of the unit utilise weapons firing rounds filled with rapidly hardening foam meant to safely immobilise targets or more exotic payloads powered by extradimensional sources in a crude but effective way for the demonstrated baseline of technological capability.
Addendum: Data extraction reveals that this paramilitary outfit is primarily intended to respond to situations created by a population of humans demonstrating abilities outside of the norm of the species within the boundaries of the United States of America and Canada. Jurisdiction also theoretically applies to actions by non-human entities, but no records indicate confirmed contact with sophontic extraterrestrial life.
Addendum: Genetic code of subjects is baseline human and entirely unaugmented, resulting in an inevitably fatal onset of senescence on average by the age of seventy through trivially prevented or cured diseases such as cancer, leukaemia, or assorted cardiovascular ailments. Recommend treatment when available.
Samus' Notes: These people must be freezing out here in completely non-climate controlled clothing. It'd be really rude to keep them waiting, but is it right to interact with people this lowtech?

Arne's Notes: Police...of course. I don't like the way they're looking at me. Do they think I'm some kind of monster? They aren't hostile yet, but I should be ready for anything.
Options:
(You may pick two; one for Samus and one for Arne; specifying whether Arne or Samus is to do the action, or have both do the same thing if you think splitting them up is a bad idea.)
[]: Comply with the request, no need to cause any trouble.
[]: Bolt past them and move towards the machines, they need investigation.
[]: Bolt past them and head towards the two kids, they need saving.
[]: Pretend to not understand their language
[]: Make it clear that you'll be asking the questions here
[]: Contact Bumblebee and Windblade electronically and inform them of the kids in need of pick-up while distracting the PRT from them.
[]: Write in